Pamela Block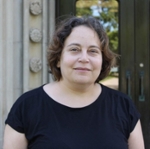 Professor - Sociocultural Anthropology
PhD 1997 (Duke University)
Office: Social Science Centre 3425
Tel: 519 661-2111  ext. 85077
E-mail: pblock@uwo.ca  
https://shakeitup.uwo.ca
My research focuses on "disability culture" and cultural perceptions of disability in the United States, Brazil and Canada. I study disability experience on individual, organizational and community levels, focusing on socio-environmental barriers, empowerment/capacity-building, and health promotion. My qualitative research methodologies combine historical and discourse analyses with community-based ethnographic and participatory approaches. I am particularly interested in multiple marginalization and the intersections of gender, race, poverty, and disability in movements for disability liberation (justice and rights) and disability oppression (eugenics, sterilization, mass-incarceration and killing in Brazil, the United States and Canada. Finally, I engage actively in discussions of the emergence of neurodivergence and disability studies in Brazil and other Global South Countries
Books
Carey, A., Block, P., and Scotch R. (in press, expected publication 2020). Allies and Obstacles: Parents of Children with Disabilities and Disability Rights. Philadelphia, PA: Temple University Press.
Block, P., Kasnitz, D., Nishida, A., and Pollard N., eds. (2016). Occupying Disability: Critical Approaches to Community, Justice and Decolonizing Disability. New York: Springer, Ltd.
Journals
Block, P. with Diallo, S. (in press). Activism, anthropology and disability studies in times of austerity. Wenner Gren Symposium Proceedings. Current Anthropology.
Scarlatos, L., Engoron, E., Block, P., Evans C. (2019). All Together Now: A Collaborative Game to Increase Advocacy Among Disabled Individuals in Higher Education. International Journal of Mobile and Blended Learning 11(4).
Gesser, M., Block, P. and Nuernberg, A.H. (2019). Participation, Agency and Disability in Brazil: Transforming psychological practices in public policy through a human rights perspective. Journal of Disability Studies in the Global South 6(2): 1772- 1791.
Carey, A., Block, P., Scotch R. (2019). Sometimes Allies: Parent-Led Disability Organizations and Social Movements. Disability Studies Quarterly. 39(1): http://dsq-sds.org/article/view/6281/5183
Kuppers, P. with Johnson, K., Block, P., Preston, VK (2019). Water Work in Play: Public Intimacies. Canadian Journal of Disability Studies 8(1): 32-57.
Friedner, M., Block, P., (2017). deaf studies meets autistic studies. The Senses and Society. 12(3). DOI 10.1080/17458927.2017.1369716. http://dx.doi.org/10.1080/17458927.2017.1369716.
Angelucci, B., Costa, L., Block, P. (2017) People with Disabilities: Fighting for their Rights in the USA and Brazil. Revista de Educação PUC-Campinas 22(3): 339-355.
Pollard, N, Block, P (2017) Who Occupies Disability? Cadernos Brasileira de Terapia Ocupacional, São Carlos 25(2):417-26.
Block, P. (2017). My disability studies is (not) better than yours. Disability Studies Quarterly. 37(3). http://dsq-sds.org/article/view/5897/4689
Block, P. & Friedner M. (2017) Teaching Disability Studies in the Era of Trump. Somatosphere. http://somatosphere.net/2017/08/teaching-disability-studies-in-the-era-of-trump.html
Book Chapters
Evans, C., Milazzo, M. and Block, P. (In Press) "Re-Thinking Disability Community:  Chosen and Ascribed Communities or Intersecting Communities and Communities in Conflict." In (Ed. Bettina Jansen) Rethinking Community Towards Transdisciplinary Community Research. New York: Palgrave.
Karp, P. & Block, P. (In Press) We Float Together: Immersing OT Students in the Salamander Project. In Occupation Based Social Inclusion. (Eds. Brueggen, H., Kantartzis, S., and Pollard, N. Whiting and Birch, London, UK.
Gaveiro, M.A., Mello, A.G., Block, P. (2019). "With the knife and the cheese in hand!": a virtual ethnography of the cyber-activist disabled movement in Brazil and its transnational impact. IN (eds. Maria Berghs, Tsitsi Chataika, Yahya El-Lahib, Andrew Kudakwashe Dube) The New Disability Activism: Current Trends, Shifting Priorities and (Uncertain) Future Directions. New York: Routledge.
Patterson, S & Block, P. (2019) Disability Vulnerability and Capacity to Consent. IN Cascio A. and Racine E. Research Involving Participants with Impaired Cognition: Ethics, Autonomy, Inclusion, and Innovation. Oxford, England: Oxford University Press.
Lima, RC, Evans, C, Feldman, C, and Block, P (2018) Autism Policy and Advocacy in Brazil and the United States. IN Fein, E and Rios, C. Autism in Translation: A Cross-Cultural Conversation Regarding Autism Spectrum Conditions. New York: Palgrave.
Block, P., Ellison E., Squillace, M. (2016) VENTure Think Tank: The politics, technologies, and occupations of disability and mechanical ventilation. In Occupational Therapy without Borders: Integrating Justice into Practice, Elsevier, Cambridge, UK
In 2019-2020 I will be teaching these courses:
Anthropology 1020: Many Ways of Being Human
Anthropology 3354G/ 9230B: Disability and Health in Local & Global Worlds
I teach in areas of cultural anthropology, medical anthropology, and disability studies (DS), migration and ethnic relations (MER), women's gender and sexuality studies (WGSS); occupational studies (OS), and; critical race studies (CRS) in the United States, Canada and Brazil.
At Western, I am currently supervising one graduate student, Matthew Resendes Medeiros. I welcome inquiries from prospective graduate students. 

Recent PhD graduates include:
Chris-Mike Agbelie (entered F2015 HRS/DS, Stony Brook University) "Citizenship and Its Contestations: Cash Transfers and Lived Experiences of Disability in Southern Eweland of Ghana"
Alexandra Wagner (entered F2016 HRS/DS, Stony Brook University) "Understanding the Experiences of Older Adults with Age Related Cognitive Changes Who are Aging in Place"
Dian Ramawati (entered F2016 HRS/DS, Stony Brook University) "Perceptions of Youth, Parents and Educators of the Sexuality of teenagers and young adults with intellectual disability in Indonesia"
Matthew Resendes Medeiros (entered F2019, Western) "Contingent Subjectivities and Insurgent Citizenship(s): Examining Shifiting and Conflicting Discourses of Disablement in Southern Brazil"
Maria Milazzo Defended August 2019, HRS/DS "Lessons about Living Well at the Intersection of Adolescence and Multiple Sclerosis"
Sylette Henry-Buckmire, Defended August 2018 HRS "Mobility-as-Occupation: Justice Manoeuvres and Negotiations in T&T"
Cassandra Evans, Defended December 2017 HRS "Asylum to Community and In Between: Examining the post-Deinstitutionalization Transitional Experiences of Mentally Disabled Individuals in Suffolk County, Long Island"